| | | | | |
| --- | --- | --- | --- | --- |
| Program | Venue | Transport | Hotel | Contact |
UC Berkeley's Clausen Center for International Business and Policy will hold its biennial Conference on Global Economic Issues on Saturday, November 18, 2017.
Confirmed speakers include Ilan Goldfajn, President of the Banco Central do Brazil who will give the Egon and Joan von Kaschnitz keynote lecture, John Williams, President of the Federal Reserve Bank of San Francisco, Ildefonso Guajardo Villarreal, Minister of the Economy, Mexico, as well as Andres Rodriguez-Clare and Gabriel Zucman, from UC Berkeley.
This invitation-only event will examine the challenges faced by emerging countries, especially Latin America, the future of globalization for emerging and advanced economies, the policy challenges posed by rising income and wealth inequality and its causes, and the challenges to the conduct of monetary policy in a world of low natural real interest rates.
The conference will host prominent economists, policymakers, and industry participants for what promises to be a lively and stimulating event.
WE ENCOURAGE TO REGISTER BY NOVEMBER 15, 2017
---
9:00am – 9:30am
Registration & Breakfast
9:30am – 9:45am
Opening Remarks

Dean Rich Lyons, UC Berkeley
Dean Carla Hesse, UC Berkeley
Pierre-Olivier Gourinchas, Clausen Center Director

9:45am – 11:00am
Session 1: Low Interest Rates

Moderator: Pierre-Olivier Gourinchas, Clausen Center Director

Panel:
Yuriy Gorodnichenko, UC Berkeley (Presentation)
John Williams, President and CEO of the Federal Reserve Bank of San Francisco
Laurence Boone, Chief Economist, AXA (Presentation)
David Mericle, Senior US Economist, Goldman Sachs

11:00am – 11:15am
Break
11:15am – 12:30pm
Session 2: Income inequality 

Moderator: Lillian Cheung, Executive Director, Hong Kong Monetary Authority

Panel:
Gabriel Zucman, UC Berkeley (Presentation)
Robert Koopman, Chief Economist, WTO (Presentation)
Christian Broda, Managing Director, Duquesne Capital Management (Presentation)

12:30pm – 2:00pm
Lunch
2:00pm – 3:30pm
Session 3: The Future of Globalization 

Moderator: Andrew Rose, UC Berkeley

Panel:
Andrés Rodríguez-Clare, UC Berkeley (Presentation)
Barry Eichengreen, UC Berkeley (Presentation)
Isabelle Mateos y Lago, Global Macro Strategist, BlackRock (Presentation)

3:30pm – 3:45pm
Break
3:45pm – 5:00pm
Egon & Joan von Kaschnitz Lecture 

Keynote:
Ilan Goldfajn, Governor of the Banco Central do Brasil (Presentation)

with comments by
Carmen Reinhart
Professor of Economics at Harvard's Kennedy School of Government

5:00pm – 7:00pm
Post-Conference Reception
Back To Top
---
All sessions and reception will be held at:
David Brower Center, Berkeley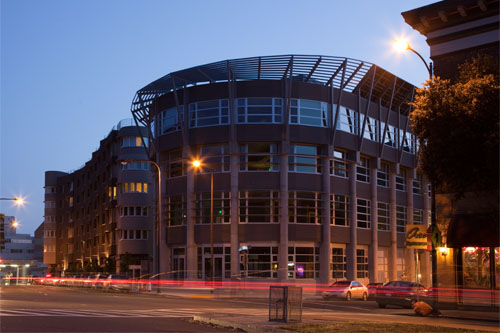 2150 Allston Way, Berkeley, CA 94704
Back To Top
---
Parking
Parking Passes for participants can be reserved in advance. Contact econevents@berkeley.edu to request a permit.
Visitor Parking Map
Transportation
For additional transportation options, please visit Bart.gov or 511.org
Back To Top
---
Hyatt Regency, 5 Embarcadero Center, San Francisco
Accommodation will be provided for out-of-town attendees. Please indicate if lodging is desired when completing your registration form and a reservation will be made on your behalf. We strongly recommend that all attendees register by September 30, 2017.
Conference transportation is provided from the Hyatt Regency Hotel to UC Berkeley, David Brower Center on Saturday November 18.  Boarding begins at 8:15am.  Please note; the bus departs from the Market Street side of the hotel (the other side of the main lobby entrance) at 8:30am. Contact econevents@berkeley.edu with any inquiries.
NOTE: Berkeley lodging also available upon request.
Back To Top
---
For questions or comments please contact:
Clausen Event Staff, econevent@berkeley.edu
Event Planner
Pierre-Olivier Gourinchas, pog@berkeley.edu
Conference Host
Back To Top
---